Over the last 12 months, our apps have been downloaded more than 50M times, our search traffic increased 55%, we became the #2 search engine on mobile in U.S., Canada, Australia The Netherlands & other countries, and our estimated user count doubled to between 70-100 Million users.
DuckDuckGrowth over the last 12 months: 50M+ app downloads, 55% search traffic increase, #2 search engine on mobile in the U.S., Canada, Australia, the Netherlands & more.
In the coming weeks, we're adding new free privacy protections in beta including a cross-platform email privacy solution & app tracker blocking on Android devices.
Later this year, we'll release a beta of the first-ever DuckDuckGo desktop app, which can be used as a primary browser.
DuckDuckGo has been profitable since 2014 with revenues now $100M+/yr. In late 2020, we completed a $100M+ mainly secondary investment from new & existing investors.
---
Will people take action to protect their online privacy? Duck yes.
Privacy skeptics have dominated the discussion about online privacy for too long. "Sure people care about privacy, but they'll never do anything about it." It's time to lay this bad take to rest.
Not only will consumers act to protect their privacy – they already are. Since the launch of iOS 14.5 in April, 84% of people in the U.S. have actively opted-out of tracking after seeing the new prompt being shown on Apple devices.
When made simple and without sacrifice, most people will choose privacy.
DuckDuckGo is the "easy button" for online privacy. That's why our apps have been downloaded more than 50 million times over the last 12 months, more than all prior years combined.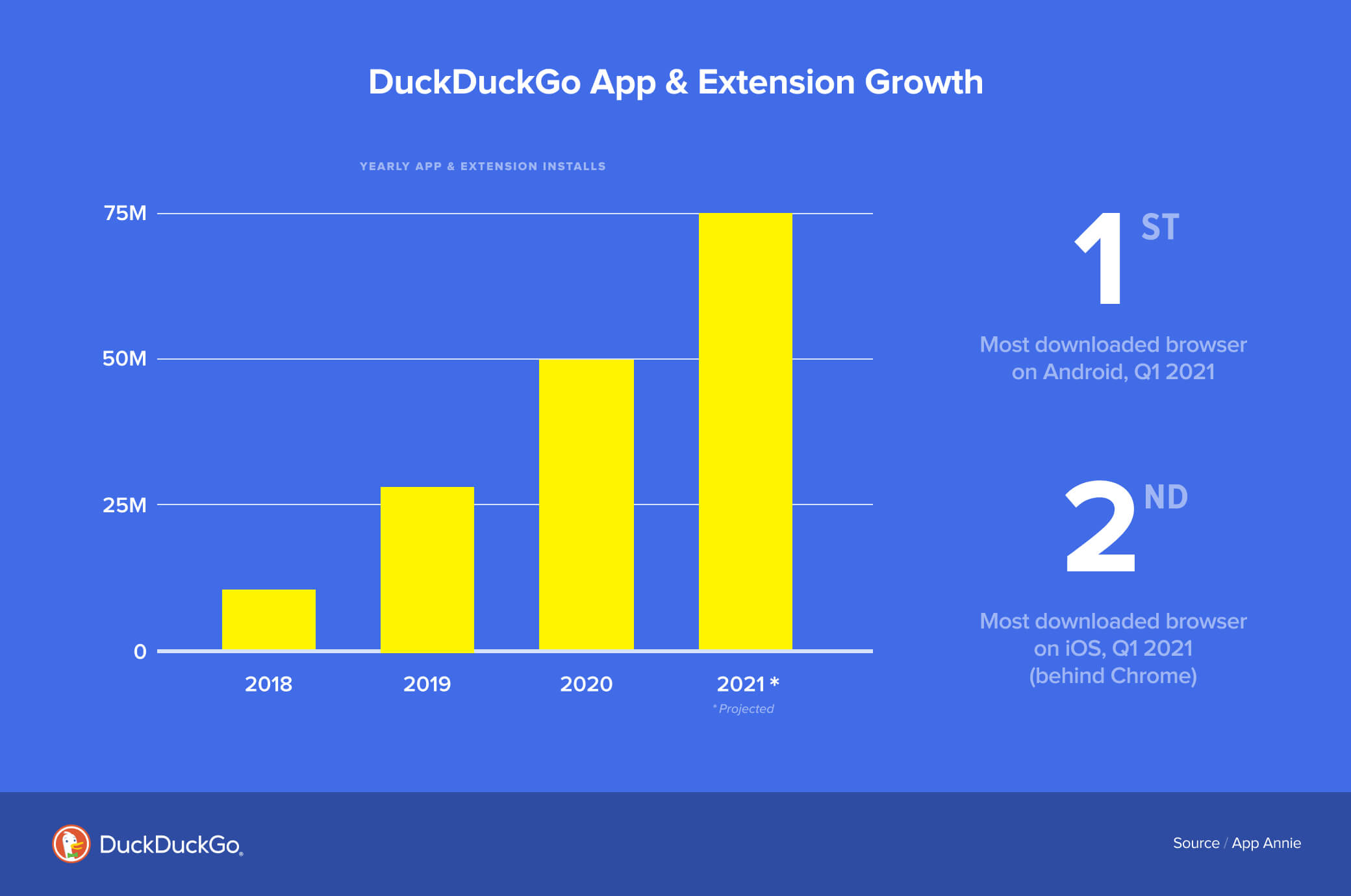 Over our 13-year history, people have been introduced to DuckDuckGo in a few different ways depending on how and when they first heard about us: as a private search engine replacement for Google search, as a mobile privacy browser replacement for Chrome, or as a desktop browser extension that protects your browsing through top-of-the-line tracker blocking and the most HTTPS coverage.
What users love about DuckDuckGo is that we combine all these essential privacy features into one simple download on every major web platform (iOS, Android, Chrome, Safari, Firefox, Edge, etc.) with no complicated settings and privacy set as the default. There is no other place where users can get an all-in-one privacy bundle active by default, for free. We believe in simple privacy protection with no tradeoffs, so we explicitly designed our app to focus on not breaking your web experience while getting faster load times with less data transferred.
Spurred by the increase in DuckDuckGo app usage, over the last 12 months our monthly search traffic increased 55% and we grew to become the #2 search engine on mobile in many countries including in the U.S., Canada, Australia, and the Netherlands. (StatCounter/Wikipedia). We don't track our users so we can't say for sure how many we have, but based on market share estimates, download numbers, and national surveys, we believe there are between 70-100 million DuckDuckGo users.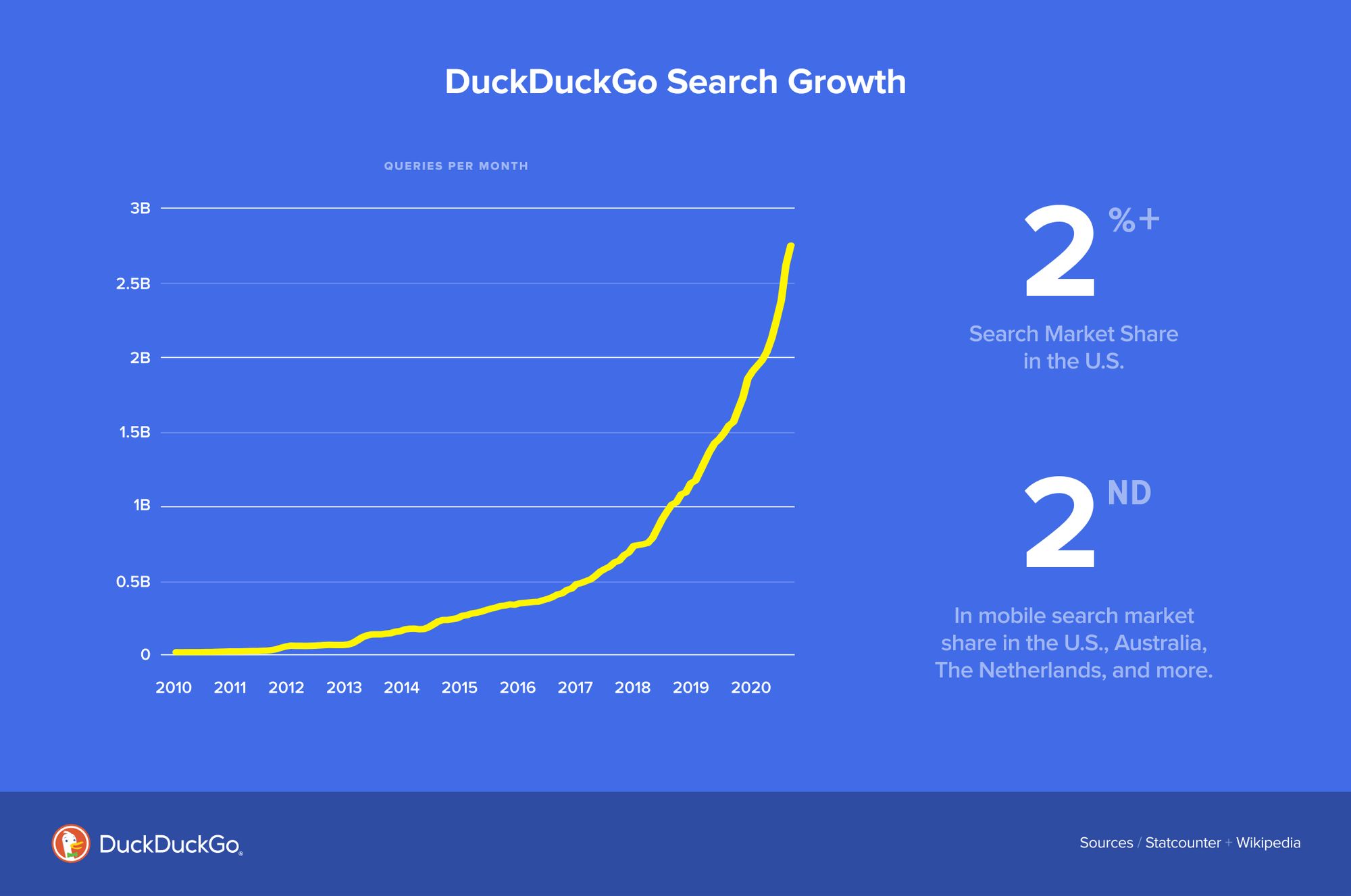 We're excited to start rolling out additional privacy features to our all-in-one privacy bundle. In a few weeks, DuckDuckGo Email Protection will be available in beta which will give users more privacy without having to get a new inbox. Later this summer, app tracker blocking will be available in beta for Android devices, allowing users to block app trackers and providing more transparency on what's happening behind the scenes on their device. Before the end of the year, we also plan to release a brand-new desktop version of our existing mobile app which people can use as a primary browser.
By continuing to expand our simple and seamless privacy bundle, we continue to make our product vision, "Privacy, simplified." a reality.
Becoming a household name for simple privacy protection.
DuckDuckGo has been profitable since 2014 and today our revenue exceeds $100 million a year, giving us the financial resources to continue growing rapidly. At the end of 2020, we completed a mainly secondary investment of over $100 million from new and existing investors, creating an early liquidity moment for employees and early investors while strengthening our financial position. Investors included OMERS Ventures, Thrive, GP Bullhound, Impact America Fund, Brian Acton, Tim Berners-Lee, Freada Kapor Klein, Mitch Kapor, and others.
Our thriving business also gives us the resources to tell more people there is a simple solution for online privacy they can use right now. Over the last month, we've rolled out billboard, radio, and TV ads in 175 metro areas across the U.S., with additional efforts planned for Europe and other countries around the world.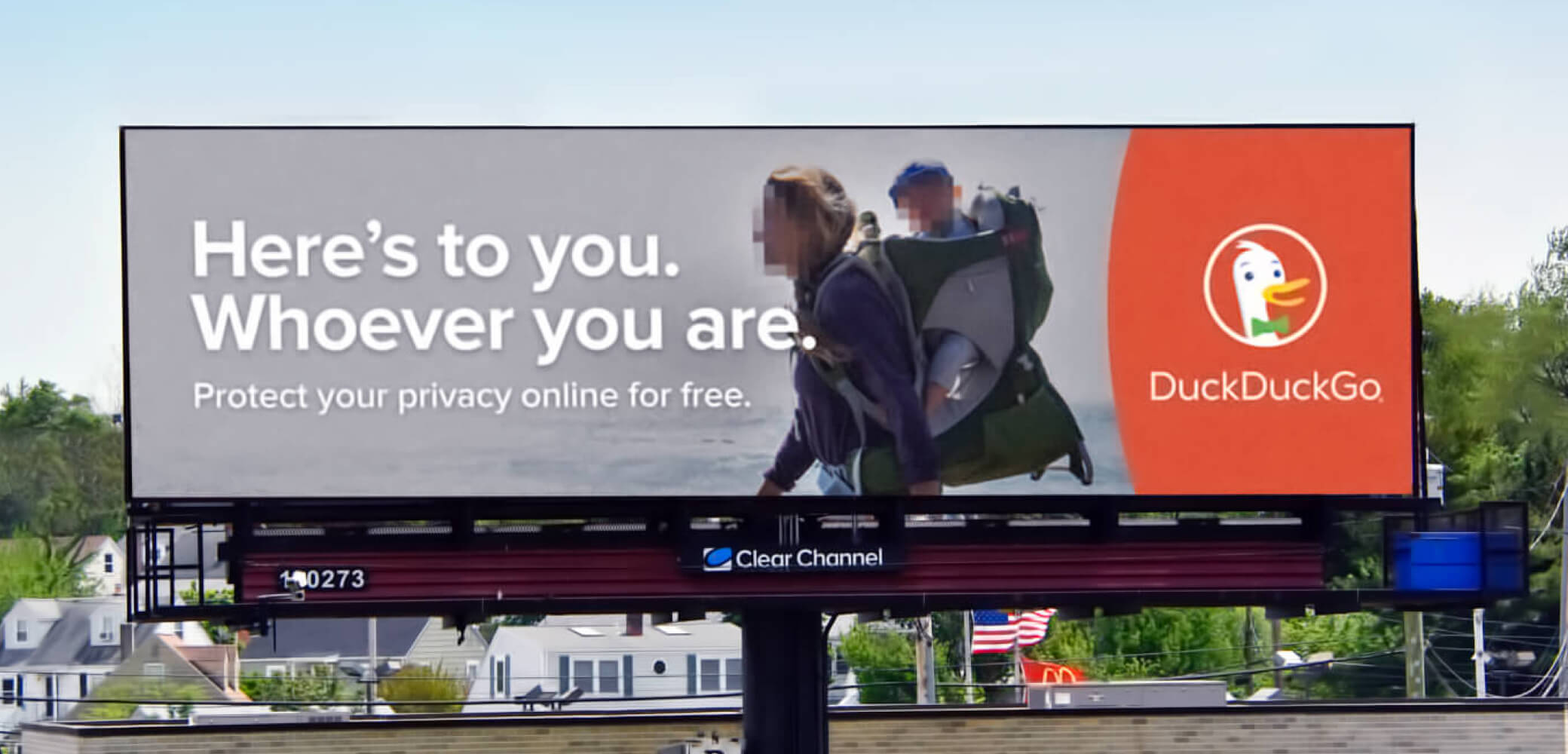 We believe getting privacy online should be simple and accessible to everyone, period.
Privacy is freedom. It treats people like people, not data points, and empowers anyone online to escape manipulation from online profiling. On a societal scale, reducing data collection and targeting helps curb systemic online problems such as the rapid spread of misinformation, political polarization through filter bubbles, ad exploitation, and more.
When users install DuckDuckGo, not only are they reclaiming their online privacy, but they're also raising the standard of trust online. Everyone at DuckDuckGo is working hard every day to make privacy the default, not the exception.